A pretty short addition this time, but it does contain some extremely important information like:
More (dark?) omens have been observed in the market over the past week
There is always something we can learn from history – a small study of the crash of 1987 and 2008
There seems to be no end to the volatility in the market. Just six trading days after the market went into a correction we are back in a confirmed uptrend. But as always, remember, the current market outlook is a condition, not a prediction. Whether this is the start of a lasting uptrend or a head fake is impossible to predict. The market itself will answer that question. Meanwhile, investor sentiment is favoring the market. The latest survey of market advisers showed more bears than bulls, an unusually high level of pessimism. Research shows that advisers are typically out of sync atkey junctures.
You've got to love this market, it is going crazy. And that does not very often, well it goes crazy pretty often actually, but not as crazy as it has been lately. I have been piling through tons of historical data and I can't find that many instances that is similar to now. Even though I take that as a bearish sign it does not mean that the coming period will see a crash just due to the volatility, but I am not going to bet against it. I am much more prone to bet that there will see a stock market crash over the coming four months.
Yesterday's rally was super strong, maybe this is the last fake out rally to weed out all the bears before the stock market crash? The important thing to follow now is how the market reacts to the strong follow-through that we saw yesterday. I wouldn't be surprised if the market would struggle to find much additional strength over the coming weeks, and even fall back into a correction pretty quickly.
More (dark?) omens have been observed in the market over the past week
Wednesday September 1st was the 13th 90 percent panic buying up day since the April 26th, 2010 top. Monday, August 30th was the 14th 90 percent panic selling down day since the April 26th, 2010 high. Monday's 90 percent panic selling down day came the very next day after last Friday's 90 percent up day. 27 out of the past 90 trading days have been panic trading days, and 3 out of the past 4. Almost one out of every three trading days (30%) has seen panic trading. This is astonishing. This is a sign of a very unhealthy market, and suggests the same dangerous condition that the official confirmed six observation Hindenburg Omen signal warns.
Further, another sign seen just before stock market crashes are multiple significant daily rises and declines interspersed over a short period of time, in other words a substantial increase in price volatility both up and down. We are seeing that now as well, as yesterday's short-covering catapult rally evidences. The key point here is the market lacks uniformity, which is critical for healthy markets where sustained Bull market trends can occur. Uniform declines can lead to selling capitulation and important bottoms from which rising trends take off. Uniform rallies are Bull markets. What we see at this time in markets is similar to what we saw just before the stock market crashes of 1987 and 2008.
There is always something we can learn from history – a small study of the crash of 1987 and 2008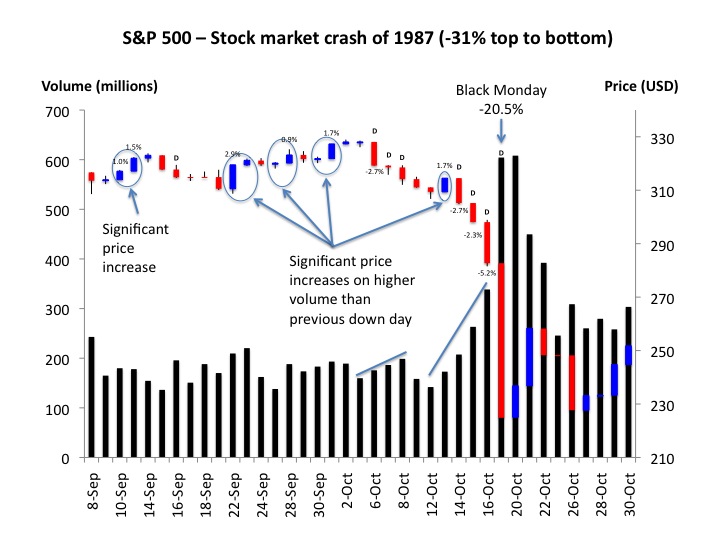 Before the 1987 stock market crash, we saw increasing volatility both up and down, which eventually led to the stock market crash of October 14th through October 19th. We have four periods before the crash that saw significant price increases on higher volume, indicating false breakouts, or short squeezes. There was one just a few days before the decline started on October 6st, and then the last one was during the decline on October 13th. The three days from October 6th through October 8th were all distribution days (see bars marked with a "D" on graph) giving alert investors plenty of warning and just enough time to exit the market before the devastating crash started on October 14th. If you were asleep you got even three more the last three days before Black Monday giving you another set of warning signals. Stocks lost 31% from the top to the bottom.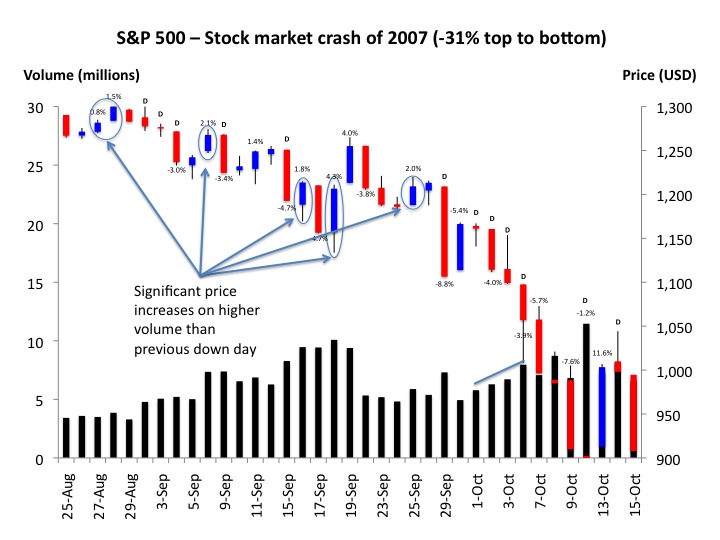 During the fall of 2007 stock also lost 31% from the top to bottom. Also here we had several fall rallies that ended up being false. There were as many as five such periods with significant price increases that came on higher volumes. After the rally in early September the mainstream media declared all was well with the world, buy buy buy! But if you were prudent and read the signals of the market you would not have listened and instead exited the market. There were three distribution days in a row from September 2nd through the 4th giving you plenty of warning of the potential for a coming crash. I sent out a newsletter on September 5th stating that the market was in a correction, which we all know by now means that you should take caution and exit all your long positions. If you had done so you would have been out of the clear throughout the entire crash of October and November. I did not send out a new newsletter until December 3rd, 2008 when the market was back in a new uptrend again.
Both charts show the extreme volatility that we had ahead of the crashes. The point is, as stocks prepare to crash, there are several huge rally days that typically occur, and you need to make sure that you study the market thoroughly to understand if the rallies show sustainability or if they falter. We also had Hindenburg Omens in 1987, 2008 like we see again now.
As I have said earlier, this does not mean a crash has to happen here in 2010 as well, but I not want you to get overexcited and drawn into a one-day rally that seems impressive on its surface.
Thanks for reading/listening,
Eirik W. Moe
6 Responses to "Newsletter #10 – Market in Uptrend"